Mrs. Potter's Book Publicity Services Presents:
A month long Blog Tour for:
To nineteen-year-old high school dropout Travis Walker, women are like snowflakes–each one different, but beautiful in her own way.
He can charm any girl he meets, and yet down deep he fears he'll always be a loser like his jailbird father. As the landlady threatens to evict him and his sick mother, Travis takes a job he hates and spends his evenings picking up girls at a nearby night spot.
When he enlists in a teen program at the local fire station, he finds out he's amazing at it. Then he meets the smoking hot Kat Summers, enlists Kat's friend Zoey to help him woo her, and falls in love for the first time ever.
But he keeps the details of his life secret. His girl will never love him back if she knows the truth about him….
WINNER
-- Third Place for Fiction 2013 Indie Reader Discovery Awards
FINALIST
-- New Fiction 2013 National Indie Excellence Awards
" ….the title of this book had me expecting something very like a teen romance. While there is romance aplenty in this wonderful novel, Girls Love Travis Walker is far more than that….
"Little did I know that what I was about to read would have such a huge impact on me…. This book hit me right in the heart."
"I really loved Travis…. I cried and was scared with him."
"This book will make you fall in love for so many reasons…"
When I signed up to read this book, I had a lot of misconceptions about what the book was about. With a title like that, I seriously thought I was about to read a steamy New Adult Romance. While I was pretty off base, I was not disappointed.
(FYI I don't rehash storylines)
Now, there is of course romance in this novel. There is a little bit of steam present within the pages. But do you know what left the biggest impact on me? The REST of the book. From the struggles that Travis and his family deal with on a daily basis, to his personal demons and insecurities that haunt his every waking moment. Travis is a flawed character but he's so much more than what he lets the world see.
The topics that are dealt with in this novel are sometimes hard to deal with, especially if you are able to relate to it on a deeper level. I have to say, finding out that one of the characters wants to be a Social Worker warmed my heart. That is a profession that is near and dear to me, so that struck a chord.
Now, moving on from praise to flat out honesty. There were quite a few times that I felt the story dragged, like the natural progression of the story line just wasn't coming through. Some of the steamier scenes fell a little flat as well. Now, considering the age range of the characters, it is my personal opinion that this author could have added a little bit more in that department. I can understand why she didn't, so that is completely my opinion.
Those two small things that I just spoke about? Did not hinder me from enjoying this book. I'd really like to know what happens next for Travis and....LOL I can't tell you! Whoops! Anyway, fun read with an emotional undercurrent! Make sure you grab yours today!
Anne Pfeffer lives in Los Angeles, California. She likes to write, walk her dog, play poker, and work as a library volunteer at a local school. Her book Any Other Night has been named a Finalist in both the 2012 Indie Reader Discovery Awards and the 2013 National Indie Excellence Awards.
Facebook
https://www.facebook.com/pages/Anne-Pfeffer-writer/121611101213953
Website
www.annepfeffer.com
To follow the other Blog Tour Stops, click on the photo below: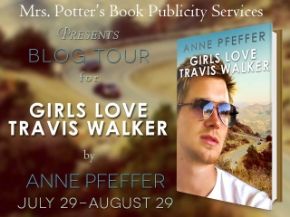 a Rafflecopter giveaway