Before tonight Cassie Tate's biggest concerns were whether she could pass Algebra and how she was going to keep Elora, her best friend, from dressing her in a skimpy fairy costume for Halloween. Her feet were firmly planted in suburban reality and she had no reason to believe her life would be anything but that of a typical teenager. That is until tonight, when Cassie saw something that no human was ever supposed to see; in the blink of an eye she was thrown into the world of the Light and Dark Elves.
He comes from a realm where light and dark have fought for millennia. He is of a race known to humans only in myths and legends. The darkness that lives inside him is a part of both who and what he is and it makes him the most gifted spy and assassin in the history of his time. His life is not his own; he lives in the service of the Dark Elf King. He slays who he must, has mercy on no one, is relentless in his hunt, and never tires of seeing his prey fall. He is Triktapic, assassin, spy, most feared of the Dark Elves.
Now, in the midst of his King's complicated plans to expand the Dark Elves' holdings into the mortal realm, for the first time, Trik finds his loyalties divided. For no Elf, Dark or Light, can turn away from their Chosen.
Unbeknownst to the mortal realm, the battle between Light and Dark is being brought to their doorstep. The only one who can keep it at bay holds darkness in his heart like a lover, and the one who can sway that heart must decide if she can look beyond his black past, beyond his evil nature and see the man he is destined to be.
The questions must be asked, does love really cover a multitude of sins? Can true love actually conquer all or will his darkness consume those around him until all that stands is an assassin with the blood of the mortal realm on his hands?
Elfin by Quinn Loftis was a wonderful read. I really liked the characters of Cassie, Elora, and Trik especially. Elora reminds of a friend of mine, loyal to a fault but snarky as all get out. Cassie is pure and sweet, but even she is pulled towards darkness. And Trik *sigh*, well he is a dark elf assassin, but he is not all that he appears.
From the beginning of the book, I was drawn into the world of elves, humans, and magic. I have read quite a few paranormal novels but this one was highly entertaining in a variety of ways. I laughed, I swooned, I cried, and even worried. But all comes out in the end, or does it? The book ends with a wonderful cliff-hanger that leaves you wanting more. I know that when the next book is released, I will be getting myself a copy, because Elfin really did catch my attention and imagination.
Check it out, and be swept away! Make sure you enter the giveaway below!
Q) What inspired you to write your first book?
A) The love of the YA paranormal genre. I really enjoy reading it and decided writing it would be even more fun.
Q) Where do you get your information or ideas for your books?
A) Ideas just roll around inside my scary head. Information, lots of research on the internet when it's needed.
Q) What was one of the most surprising things you learned in creating any of your books?
A) It's a lot harder than it would seem to write a series. Keeping all the facts straight and not missing any details can be extremely challenging.
"I am a 31 year old wife, mother, nurse and author, not always in that order. I live in Arkansas with my husband, my 4 year old son, and our 7 month old Doberman Pinscher. I hope to be able to write full time one day, but right now feel very blessed to be able to self publish my books."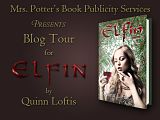 a Rafflecopter giveaway